NEW SIGNATURE RULES:

We received many complaints regarding the signatures, therefore we set up a new rule for signature.

Why?
1. Internet connection in some countries are slow, and big signatures makes the forum lag and hard to load.
2. Big size signatures are taking a lot of spaces in the thread

RULES:

Your signature picture(s) must not exceed 500 x 160 pixels. (Width x Height)

This is the example of the size:



Accepted format for signature:
Still image (.jpg, .png,etc)
Animated image (.gif)
Blinkies (.gif)
Text
NOTE: The maximum text size allowed in signatures is Font size 5 [or size 18]

Maximum images for your signature are 3 images
Blinkies or animated avatar counts as 1 image. You can mix and match, but all counts as three.
These count as one image each:


OR



Line Count:
Your signature cannot exceed 5 LINES, includes both text and pictures as well as spacing. Even if a line is blank, it still counts toward the line count. Images cannot be in TWO lines (stacked together), only Blinkies can be in another line.

Example:
Line 1: Text
Line 2: animated gif 1 + animated gif
Line 3: Blinkies
Line 4: [Enter]
Line 5: Text

Result:

I LOVE BOYFRIEND LIKE CRAZY



gif by boyfriendcollection.tumblr.com
NOTE:
Sometimes when you hit the Enter key, an extra space is added in between both of your lines. In order to have your lines directly below each other, hold the Shift key, then press the Enter key at the same time.

Uploading image
You may either use the upload option for your signature images, or you may embed the image with

around it.
We strongly suggest that you have an account in image hosting website.
More information, please read here.

Back up your image
Please keep personal backups of your signature pictures, especially if you are just using links to an external web host. If your signature is removed, there is no guarantee that any of the contents will remain left behind. Due to this, several users have lost any chance of simply resizing their signature pictures to follow the rules.

What not to post
Please do not use obscenely bright signatures, flashing signatures, explicit signatures, or signatures advertising other forum sites. If the content of your signature picture(s) bother many other users, you may be asked to remove the picture, or simply have it removed by a moderator. Advertising your own blog, Facebook or Twitter is allowed and must be in text format. Please put credit if necessary.

Exception
Forum staffs and Donors have the privilege of bigger size for the signature: 700 x 200 (Width x Height). Other rules apply.

You can resize your GIF with these website:
EZGIF.com
Online Image Editor
Picasion.com

After uploading the photo it'll look like this with the resize options using EZGIF.com. You can save the output image to your computer (or later upload it to your image hosting account).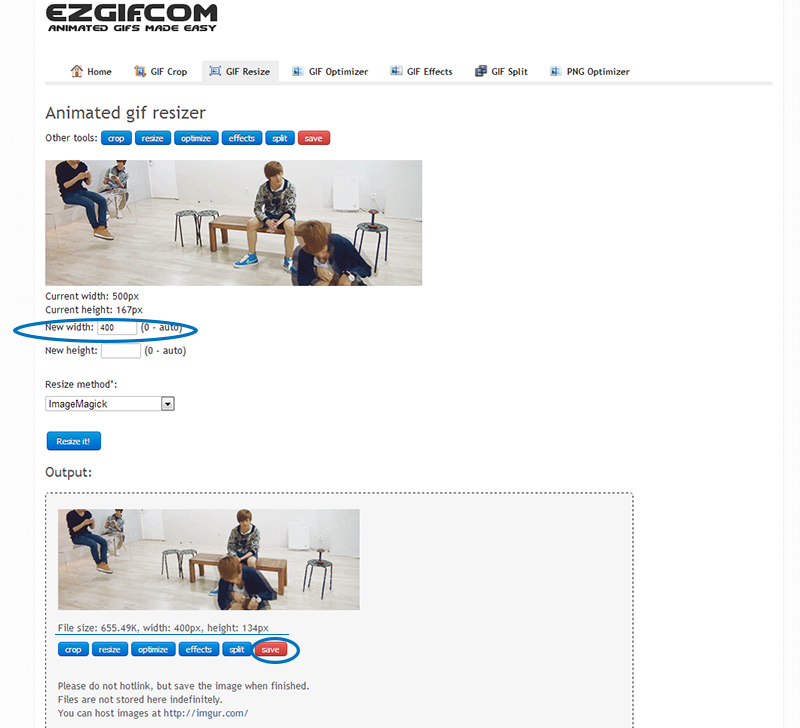 Warning and Deletion
If your current signature is breaking the rule, moderator will message you asking you to modify your signature. If we don't get a respond within 3 weeks, we have the right to remove your signature.
This rule is subject to change. We will announce it of we make any update.
Updated 13.07.10