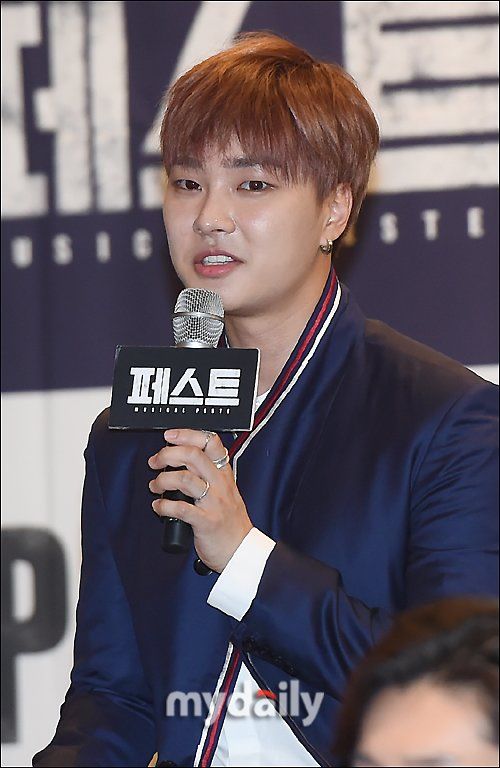 On the afternoon of the 30th at Seongdong-gu Di Nozze Convention where the press conference of the musical 'PESTE' took place, Jeongmin spoke about his thoughts about becoming a part of the production, saying 'The realisation hasn't hit me'.
He revealed, "When they said that I made it in the musical, I thought 'Ah, so I'm doing a musical" and "I went to the practice room and read the script and was practicing when I wanted to say "I'm in big trouble".
Continuing on, he stated, "It's because hyung, noona actors and the actresses (in this musical) are really good, and there are a lot of cool actors so, I felt that I have to work hard without being an inconvenience."
To the fans, Jeongmin also added, "Please give our musical 'PESTE' lots of love and it's an honour for me to be able to do this along with good actors. Thank you"
Kim Dahyun, god Son Hoyoung, Park Eunseok, Oh Soyeon Fiesta Linzy, Kim Dohyun, Yoon Hyungryul, Kim Suyoung, Jo Hwi, Jo Hyunggyun, BOYFRIEND Jeongmin, Park Junhee, Hwang Seokjung,Kim Eunjung, Lee Jungian, etc are participating in the musical. On the coming July 22nd, it's 2 month run will begin in Seoul LG Art Centre.
Take out with FULL CREDITS
Source: mydaily
Trans: youngmineekkeo {beatrooot} for imyourbestfriend.com