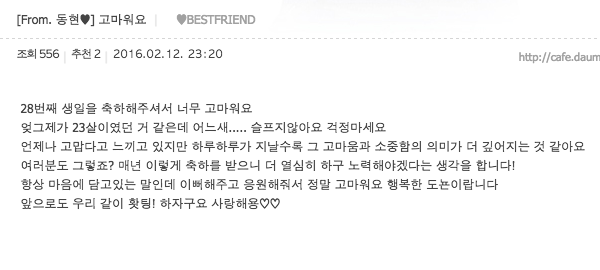 [From. Donghyun♥] Thank You
Thank you so much for greeting me for my 28th birthday
It feels like I was just 23 a couple of days ago and before I knew it…. I'm not sad, please don't worry
Though I always feel thankful, as the days go by, I think the meaning of that gratitude and importance is getting deeper.
Everyone, you feel that way too, right? Since I receive greetings like this every year, I think that I should work harder and put more effort in!
This is something that I say wholeheartedly all the time but, thank you very much for adoring and supporting us I'm a happy Donyunnie
In the future too, let's all 'Fighting!' I love you♡♡
All Credits belong to STARSHIPent.
Source: BF Official Daum Cafe
Trans: youngmineekkeo {beatrooot} for imyourbestfriend.com