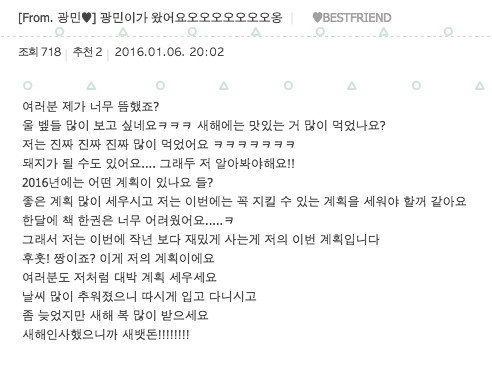 [From. Kwangmin♥] Kwangminnie has arrivedddddddddd
Everyone, I (drop by) very rarely, right?
I miss our Bestfriends very muchㅋㅋㅋ Did you eat a lot of delicious foods during the new year?
I really really really ate a lotㅋㅋㅋㅋㅋㅋㅋ
I could even become a pig…. But still, I have to see about that!!
What kind of resolutions do you have for 2016, everyone?
Set a lot of good resolutions and I think that, this time, I have to make a resolution that I can definitely keep
Reading one book per month was very hard…..ㅋ
That's why, my resolution this time around is to live more enjoyably than last year
Huhoot! It's great, right? This is my resolution
Everyone, just like me, set a daebak resolution
Since the weather has gotten a lot colder, dress warmly when you go outside and
Though it's a bit late, Happy New Year
And because I've greeted you a new year, (give me my) *New Year's money!!!!!!!!
*pocket money that you get after you do the traditional bow
All Credits belong to STARSHIPent.
Source: BF Official Daum Cafe
Trans: youngmineekkeo {beatrooot} for imyourbestfriend.com