How to Create Kakao Talk Account
-will be useful for Daum or Genie login-
If you have a smartphone:
You can download KAKAO App from Google Play or Apple Store. After you install, it will register your phone number.
You just need to make a KAKAO ID. They will ask you to create account with email+password, but you can skip this login step because they recognize your phone number. However, if you create a KAKAO account, you can use it on any device, not just smartphone.

KAKAO App allows you to chat with friends by phone number or ID. You can also download Boyfriend Kakao stickers/emoticons.
If you don't have a smartphone:
You can register KAKAO account via website. Then you can use this account to register to Daum (for Boyfriend fancafe) so you can skip that Hangul Captcha step (read here).
KAKAO account also useful to connect with other Korean websites, so we encourage you to create an account, with or without smartphone.

1. Open www.kakao.com/main

2. Click SIGN UP, then a grey box will appear. Click SIGN UP at the bottom.
3. Tick both boxes to agree with Kakao's term & policy, then click NEXT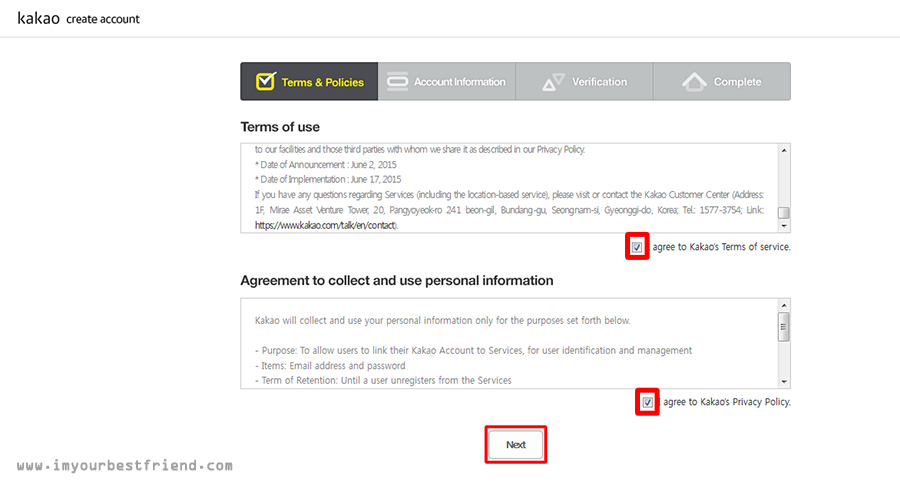 4. Fill out your email address and password, then click NEXT
5. You will see a VERIFICATION PAGE. DO NOT CLICK "NEXT" JUST YET. First, you should open your email and find the verification email sent from Kakao. Also check your Spam folder. Please look at the next image on #6!!!
6. This is your verification email. Click on that Yellow bar to verify your email.
AFTER you click, you will see another page with Kakao Friends icon on it. You can close that page, and go back to Step #5 the VERIFICATION PAGE, now you can click next.
7. After you click NEXT on Verification Page (Step #5) you will see this confirmation page. Just click CONFIRM. It will take you back to the main page and you're already logged in.
8. Please write down the email address and password you use for this KAKAO account and save it just in case you forget.


Now, let's continue to Daum to login with Kakao account you just made.

1. Go to http://cafe.daum.net/BOYFRIEND

2. Click LOGIN button
3. Don't fill out your email. Just click on the YELLOW button.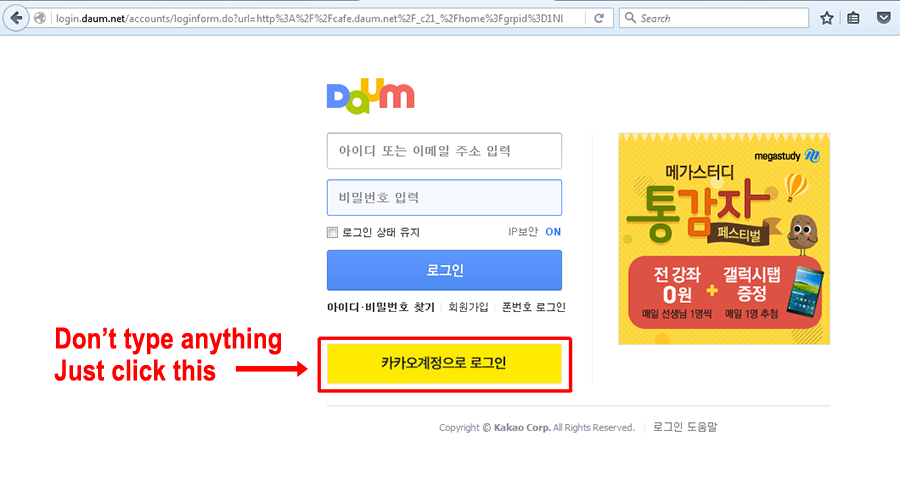 4. Now you can enter the email address your used for your KAKAO account and its password. Click LOGIN.


5. This page confirms the link of your Kakao account with your Daum account. Click on both circles until they turn yellow, then click AGREE.
6. This page asks you to create your Daum username. Type it in then click the Blue button.
7. It will take you back to the main page of Boyfriend Fancafe. Now you are logged in on Daum. Please continue to register to fancafe with THIS TUTORIAL
Additional info:
If you already have Kakao Talk app on your phone, you can also install Kakao Talk on your computer.
1. Go to www.kakao.com/main#
2. Click SERVICE menu
3. Click Kakao Talk
4. Find your device spec and download the program.
4. After you install, you can login with your email dan password. It will ask you a confirmation code to register the device. Just follow the instruction they give you until your Kakao in your computer is connected with Kakao account on your phone.
It will create a folder on your computre drive to store chat history and images sent via Kakao Talk.
Kakao Talk on your computer works the same way as the one on your phone. However, if you don't have a smartphone, then you cannot use Kakao Talk on your computer. It doesn't work like a messenger. It must be connected with a phone number.
Please let us know if we make any mistake or you have a problem with the steps.