5 Things You Miss from Boyfriend's BOUNCE Era


1. Jo Twins' Army Hair
When Youngmin & Kwangmin joined the show Real Men in February 2015, they had to have their hair cut short for the army requirement. It was right before Bounce promotion started, so we could see their army hair throughout this era. After they were done with Real Men, the Twins dyed their hair. Youngmin was pink/purple and Kwangmin was red.





2. Who is Who in Boyfriend in Wonderland
It's obvious that Boyfriend using Alice in Wonderland as their concept for Boyfriend in Wonderland album and the MV Bounce. However, it's confusing to Bestfriends because we had to guess who is playing which character in Alice in Wonderland, because Boyfriend's fairy tale concept is always with a twist.
This time it is Hyunseong who plays double character. He potrays the Cheshire Cat, as you can see in his hair color; but also as Alice. Nice huh? A male Alice (with nice abs too), that's why he was wearing a blue shirt in the MV.
Donghyun elegantly plays the White Rabbit with gorgeous pink hair. Minwoo as the Mad Hatter. Kwangmin & Youngmin of course as the quirky twins, Tweedledee & Tweedledum. And Jeongmin dresses up as the Card Soldier of the Queen's Army.
As for the female model in the MV, she is Alice as well as the rabbit too. Plus in the beginning, she was wearing the red riding hood from Witch era. Such a nice twist huh?
Let's watch the MV again!





3. Donghyun's card throw
Donghyun practice a lot for this quick gimmick. He even carried a deck of cards everywhere. Especially because he was busy with his musical during the preparation of Bounce comeback. He said he kept messing up and nervous for the comeback stage. So please pay attention to his card on Bounce performance because he worked so hard for it.
Bounce performance list click HERE





4. Boyfriend's 2nd Win
Amazingly, Bestfriends managed to give Boyfriend their 2nd win at SBS MTV The Show on March 24, 2015. If you see the numbers on the date, it can be rearrange as 012345 (150324). So now Boyfriend and Bestfriends have 2 sets of lucky numbers: 14.11.11 and 15.03.24
Plus the next day, March 25, was Boyfriend's 1400th Day since debut.
So it was double happiness to get the 2nd win on that specific day.
Boyfriend celebrated with Bestfriends who came to the watch them at the music show. It was touching and overwhelming. Moreover, this time more international fans helped Chinese fans with the vote, so it was intense during the live voting period.
You can watch the winning speech here cr: Audrey Yam and Boyfriend's thank you video here Cr: youngmineekkeo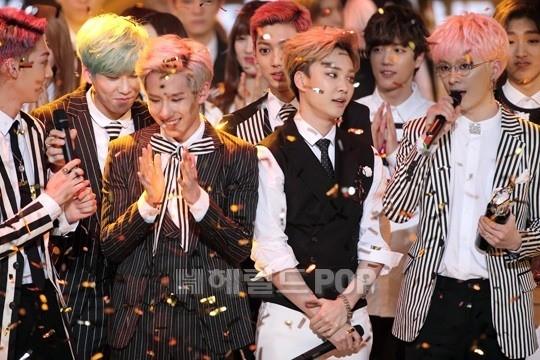 5. Boyfriend in the forest
Probably because the Alice in Wonderland concept fits the setting, Boyfriend gave us a special dance video of Bounce.... in the forest. I must admit, it's not easy dancing in the forest with the complete concept costumes, so we should give them two thumbs up for it. This special version of Bounce is a promise after Bounce MV reached 1M views (??) I'm not sure because Starship often trolled us with those promises

Anyway, let us all appreciate our hard working Boyfriend in the forest once again. Click here please.





What do you miss from Bounce era? Please comment below!