Hellooo Bestfriends~
The Jo Twins birthday project is finally complete! It wouldn't have been possible without the wonderful contributions from Caitlyn, Gina, Lauren, Vel, Hyunminchii, and Tsoul so a very special thank you to them~ Thank you to everyone who donated, participated in the project event sale, and submitted your videos. We couldn't have done it without all of you coming together to help us celebrate our dear twins birthday.
It all started with the custom hat we originally wanted to give to Kwangmin for Christmas last year. It arrived in the mail about a week after we sent out the Christmas project and we still wanted to give it to him so we figured their birthday would be the perfect time! With that in mind, we decided to make all of their gifts twin-like and matching, so we ordered a hat for Youngmin that looked exactly like Kwangmin's but in black instead. To make the hats a little more special (since the New Era website doesn't allow you to add custom text) I took the hats to the mall to have their initials embroidered on the side!
(please forgive the terrible lighting in the rest of the pictures… ㅠㅠ)
We wanted to send them other gifts in addition to the hats, so after much debate and consideration over the budget we decided to send them a special music playlist, get books translated in Korean, and plushies! The Little Prince actually came as a two-book set! One is translated into Korean and the other is in English. Hehe maybe it'll help our dear twins improve their English? Our plushie choice was decided based on a poll that we posted on the forum twitter page. Thank you to everyone who participated~
But we didn't want to just send them gifts. Our project needed an element that included Bestfriends as well. It had to be different, something interesting, but allowed Bestfriends to communicate with the twins, so we decided on video messages! We debated over project names for a couple days, but couldn't really decide on anything so we stuck with Bestfriend TV.
All of the video messages that Bestfriends sent in were put in a folder on this cute Olaf USB drive with the playlists for Youngmin and Kwangmin each separated into their own folders. Originally I ordered a USB drive on Amazon that looked like Stitch from Lilo & Stitch. It was super cute, but when I tried to plug it into my computer I discovered that it was too wide for some reason! Unfortunately I had to return it, but when I went to the store to find a replacement I was determined to find one that looked cute. When I saw the Olaf flash drive I knew it'd be the perfect replacement since all of the boys seem to like Frozen (and his arms move!!)
On top of all that, additional gifts were sent to me by other Bestfriends to add to our special birthday package! Caitlyn sent us her carefully picked out and adorably packaged gifts for the twins and Vel sent the custom-made cushions she ordered for the twins!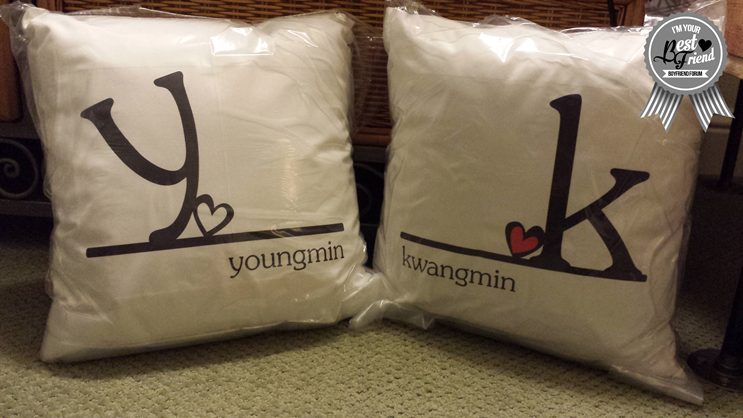 I was prepping and packing all of the music, videos, and gifts for about 2 days prior to the actual day I shipped it (which ended up being delayed a day because of that Stitch USB incident ><), but it really came down to the last minute. When I finally packed it all up, it was about 4:20 PM and the post office window at the grocery store closed at 5:00 PM so I rushed to get it all in my car and drive down there. Two people walked past me really quickly to jump in line in front of me and the wait took forever even though there were only 4 people in front of me. I managed to make it up to the window about 10 minutes before closing only for the clerk to tell me that they don't take international packages or boxes over 2lbs! The post office closes at the same time and it was about 10 minutes away… I really didn't think I was going to make it. I got into the parking lot 2 minutes after 5:00, but I saw someone run in before me and someone else walking out. So I raced into the post office and everyone was so nice there! The woman who I saw parking all crazy and running into the post office let me go in front of her and one of the workers helped me get one of the clear packing envelopes for my customs forms.
Thankfully I was able to get it shipped out on the 17th and the package arrived safely on the 21st!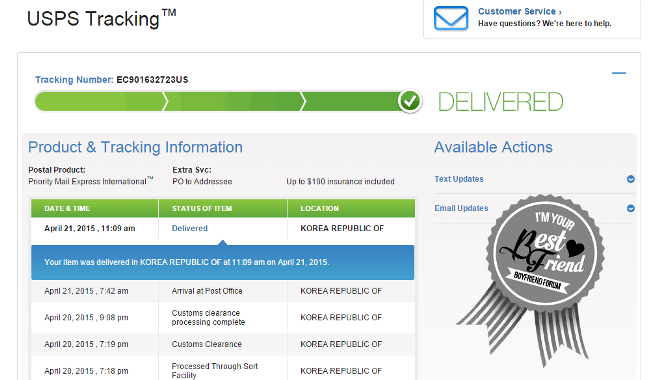 In addition, with the help of Gina's extremely generous donation, we were able to order a cake for the boys as well!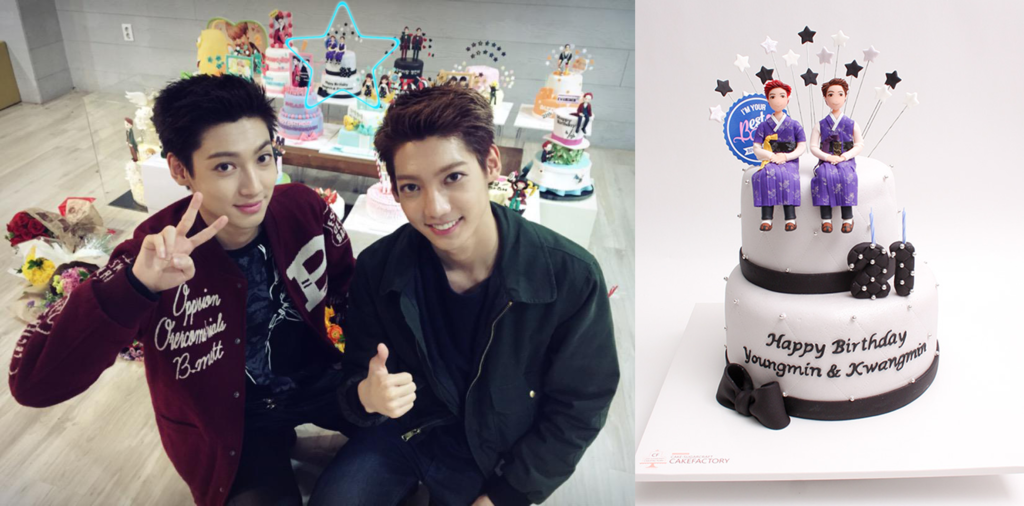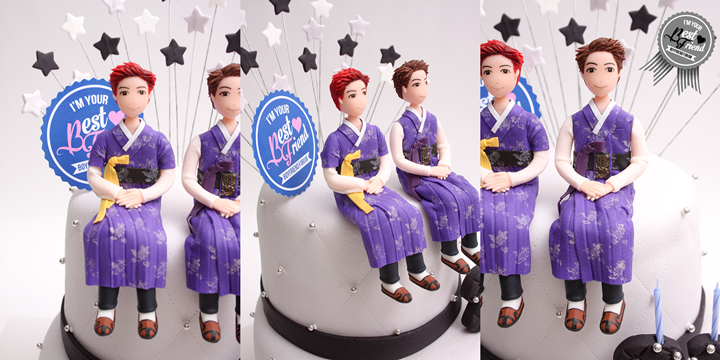 Thank you again for everyone's support, participation, and contributions! Hopefully we'll get to see the boys sporting their new hats (and everything else!) together soon~
Project Managers: Jasmine (Suminnie) & Kelly (leejeongminnie)