Jo Twins 21st Birthday Project Support Sale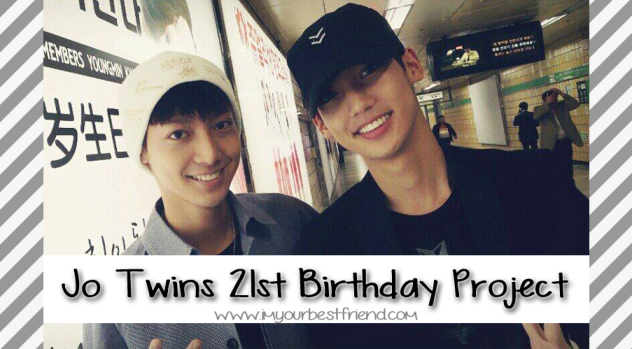 WITCH Signed Album + Photocard @ 25USD
-Your choice of signature (while supplies last)
Donghyun: 4 available
Hyunseong: 4 available
Jeongmin: 5 available
Youngmin: 4 available
Kwangmin: 2 available
Minwoo: 3 available
-Your choice of photocard (while supplies last)
Donghyun: 5 available
Hyunseong: 2 available
Jeongmin: 5 available
Kwangmin: 1 available
Minwoo: 3 available
Group: 6 available
Youngmin Official Iyah Repackaged Album Photocard @ 8USD
Kwangmin Official Iyah Repackaged Album Photocard @ 8USD
Minwoo Official Iyah Repackaged Album Photocard @ 8USD
Boyfriend Mwave Meet & Greet Mousepad @ 5USD
*Above pricing doesn't include shipping costs*
All merchandise is official! Signed albums are authentic and have been obtained from Mwave.
How to order:
If interested, please email me at j.kawamoto@outlook.com with all of the information below. Please only send in an order request if you are committed to purchasing. I will reply to your email within 48 hours with a payment total and shipping details.
Email Subject: Jo Twins Bday Project Sale
Name:
Forum/Twitter username:
Method of payment:
*Item(s):
Shipping Address:
*If purchasing an album, make sure to include in your email the signature & photocard that you would like.
Payment:
-Payment can be sent via paypal to j.kawamoto@outlook.com
-Money orders will also be accepted (contact Suminnie for details)
-PH Bestfriends can send payment via bank transfer (contact Suminnie for details)
-Make sure to include your forum/twitter username with your payment.
-If you would like to make a purchase but can't use paypal, please contact xSuminnie so we can try to work out another method.
DM on twitter (@xsuminnie)
PM here (Suminnie)
Deadline for sale: Tuesday, March 31, 2015
(funds from purchases made past the deadline will go towards the 2015 Christmas Project)
Any questions? PM the project managers or leave a response in this thread.
PROJECT MANAGERS: leejeongminnie + dandyoungmin + Suminnie