Dear Bestfriend,

This is your admin, Velisha. I know that I am not supposed to use this forum for personal reason, but I think you guys deserve my deepest gratitude so I am going to express it here.

I just received a birthday gift from Bestfriends from this forum.
I got birthday messages along with your pretty selca (srsly, guys, are you all plotting to make me cry?)
I got the amazing Bea sing me a wonderful song, Winter Child, with beautiful lyric.
I got WITCH CD & mousepad & a cute changing sticker from Songil-nim & Hyeonjia.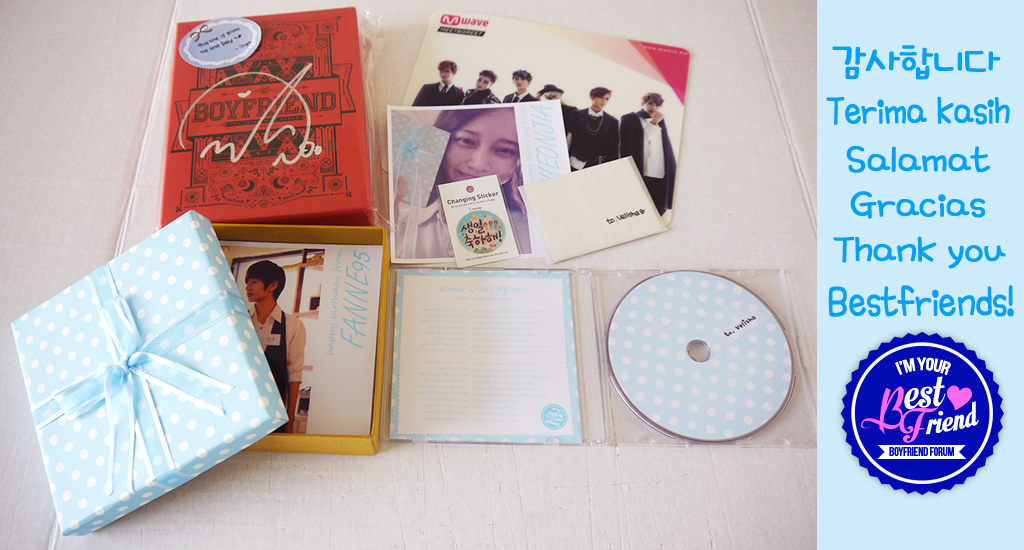 And I don't know how you pull this together, but I am touched and amazed.

Even I lost for words to describe how I feel. Pardon for this crappy message, I am still in tears.

This year kicked off unpleasantly for me, just when I was all pumped up for the new year. It is hard to keep all your positive thinking, when everything in your life just went wrong. I've been sick for months now (that's not new lol) and I have to deal with family, work & financial problems. In short, life is being a b**ch to me since 2015 began.
I said to myself, "Fine. Everything seems to turn against me. I will fight this to the end."

There were times I thought, I should have left the forum, went for total hiatus so I could focus on my life's problems.
But I still have stuffs I haven't finished, things need to be done, for the forum or for Boyfriend. So I tried to take care of those too, thinking: when I'm done, then I can go on hiatus or just resign from the fandom.

However, when I am finishing forum stuffs, working on some plannings etc, I found that Bestfriends give me courage and strength to make my life at least bearable.
Once in 2011 Boyfriend saved me in time of my hardship, but I must say that this time, it's Bestfriends who help me a lot. You, my dearest Bestfriends, help me to go through my sick days and put smile on my face when things get tough.

I remember I was so sick the night before Donghyun's birthday, and I was scheduling tweets to trend his hashtag, in the middle of high fever & headache. Some Bestfriends talked to me, via PM, twitter, Facebook or Kakaotalk. Like… no matter how lousy I feel, Bestfriends keep me company.

I may not be online in this forum a lot, but I still communicate with Bestfriends via other ways. Every time I talk to you, I do feel like I have best friends. Eventhough you live far far away from me and speak different language, yet I enjoy your friendship.

This is the best & most beautiful birthday present I've ever received. Well, last year Bestfriends also being wonderful by giving me a wonderful birthday present as well. (Thank you, everyone! Best memories!) The point is, you guys are amazing. I'm proud of you, and I am happy being in this fandom.

I'm amazed that each one of you took time to do this. I know many of you are on hiatus, busy with your own life, or maybe facing problems like me. Thank you, for doing this, from the bottom of my heart.

Thank you, Jiya for doing a pretty presentation. Everything is just beautiful. I know you are busy and on hiatus, and that it is not easy for you to do this in your situation.
Thank you, Bea for the song. It makes me cry.
Thank you for the gift & messages.
Bestfriends, you are all beautiful & cute. I'm sure Boyfriend are proud to have you as fans. Your messages touch my heart. I am happy to know you.

I don't know what else to say, but thank you. This means a lot for me, you have no idea.
I am still lacking in many ways, but I am trying my best to do more for this forum, so Bestfriends can connect with Boyfriend more and more.
I am sorry for all the unfinished stuffs about this forum, I am still working on everything.
Please keep supporting Boyfriend, and please use this forum to meet other Bestfriends. Because Bestfriends are amazing, trust me.


I am not good in expressing my feeling, but let me give you a sweet song by my fave Japanese singer, Mayaa Sakamoto, from her song "Saved". That's pretty much sum up my feelings. Thank you for making this birthday special, Bestfriends. I will never forget it.
Cheers,
Velisha