VOTE BOYFRIEND FOR BEST FANDOM AT SOOMPI AWARDS 2014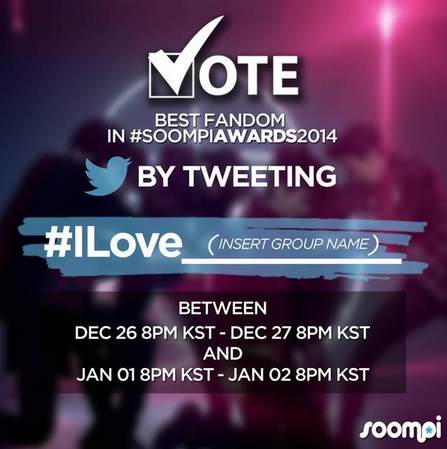 Please tweet #ILoveBOYFRIEND for Best Fandom in Soompi Awards 2014.
Only at these times:
Period 1: Dec 26th – 8pm PM KST until Dec 27th – 8 PM KST
Period 2: Jan 1st – 8 pm KST until Jan 2nd 8 PM KST
The BEST FANDOM category will be determined ONLY from voting in Twitter at the specific times.
Tips:
· Have the hashtag ready somewhere, so you can easily copy-paste it into your tweet.
· Remind yourself about the schedule, calculate what time it will be in your time zone, so you don't miss it. Use Time Difference Calculator
· If you can't make it to tweet during the specific times, you can use an app to schedule your tweet ahead of time. You can try:
https://tweetcaster.com/ (good for smartphone)
https://tweetdeck.twitter.com/
Let's show the Kpop world the power of Bestfriends!!
For more information about the Soompi Awards 2014 click here: http://www.soompi.co...your-votes-now/