Dear Bestfriends,

This is your admin, Velisha.
Sorry for the lack of being online. I've been so busy with my jobs & life. Since October busy with supporting WITCH comeback, and after that with 1300th Day Project.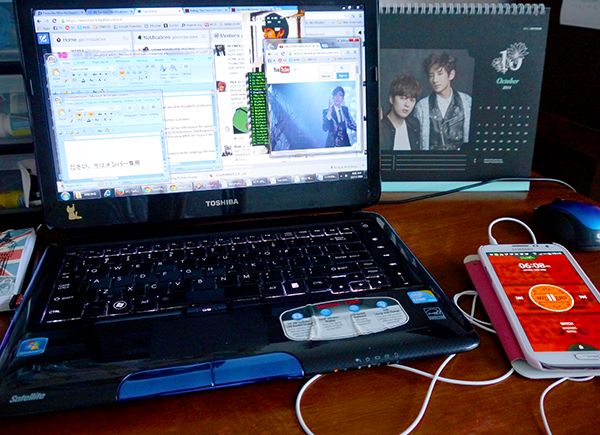 Multitasking is the only way to support our dear Boyfriend. Streaming, tweeting, voting, promoting, etc. But it's all worthed. Don't even ask me how many windows open on my screen


If you are wondering about our Love Notes Project for Boyfriend's 1300th Day, it was safely delivered on December 8th.

This is the complete report of the project.

We got many notes from old fashioned mail & digital version via emails. They are all so colorful and creative!! I'm sorry I didn't have enough time to take picture of all of them one by one. Total we got 183 notes to fill up the box.


Thank you so much for participating and taking time to make such pretty & fun Love Notes & Fanart. I am sure Boyfriend are happy reading them.

To celebrate Boyfriend's 1300th Day on December 15, 2014; we also send the boys something to brighten up their busy days. We sent them commemorative golden coins!! Not just shiny, but they're delicious too ahahaha because it's made of yummy milk chocolate


We think Boyfriend as our treasure so we want a treasure theme for our gift this time. Golden coins in a treasure chest with a message in a bottle.
We also got help from our talented Bestfriend from HongKong, Wendy Lau. She made all the fanart for the project. Aren't they cute? I'm sure Boyfriend love it too!! Please follow her on Twitter @boyfriendlau to see more of her artwork.


We also set aside some chocolate coins for Starship staffs, because they are the ones who work hard to take care of our beloved boys. We got a little something for BF Fan Manager too. Don't worry, we made sure they know it's for her, not for Boyfriend.
Last addition to the project is all the selcas from Bestfriends, when we showed them support for Boyfriend's 1st Chapter in Seoul BEWITCH Concert last November. So Boyfriend surely saw your pretty selca & support!
Thank you so much for supporting and participating. Please join us again for our future project.
Enjoy your stay at the forum and follow us on twitter @BOYFRIENDIntl

Cheers,
Velisha

1300th Day Project 2014
Love Notes for Boyfriend
Concept/Design/Production: Velisha – USA
Project Assistant: Songil-nim - Indonesia
Artwork: Wendy – HongKong
Translator: Hyeonjia – Indonesia