BOYFRIEND 3rd ANNIVERSARY PROJECT
Dear Bestfriends,
We are launching the project for the upcoming Boyfriend 3rd Anniversary on May 26, 2014.
We are trying to get many Bestfriends involved, and our goal is still the same: to show Boyfriend that they have Bestfriends from all over the world, not just Korea, China or Japan.
We have 2 things on our 3rd Anniversary Project:
3rd ANNIVERSARY CAKE
We are going to send a cake for Boyfriend on their 3rd Anniversary.
Please help us by donating any amount of money, even US$1. Donation needed US$500.
Donation ways:
- via INDIEGOGO campaign. Please CLICK HERE (you can pay via paypal or credit/debit card)
- via Forum Donation button (it will go to your paypal account)
- via paypal direct to inkandpaper77@gmail.com (please state your name & country)
- for USA fans, you can send concealed cash/money order by mail or direct deposit to CHASE bank account. Please PM admin for details
- for Indonesia fans, you can do BCA transfer. Please PM admin for details.
- for International fans, you can do bank transfer to USA CHASE Bank account, but service fee may applied. Please PM Admin for details.
- for any of you who are interested in donating, but can't find the right way, please PM Admin so we can work things out.
ATTENTION DONORS!!!
If you have donated $10 USD or more you will be automatically drafted to win Boyfriend's newest Japanese single "My Avatar" CD along with some BF goodies! This giveaway is only eligible to those that have donated $10 USD or more.
There is no maximum number of entries. This is how entries will work:
1. $10 USD (one entry)
2. $15 USD (two entries)
3. $20 USD (three entries)
4. ETC...
As seen above, for every $5 USD that is added, you will be given one more entry.
Rules:
This giveaway is open to all International donors no matter where you live as long as we are able to ship to your destination.
If you did not donate $10+ USD the first time but would like to enter the contest, then please donate again with another amount and PM the Admin about your donation (It must be under the same name!)
The winner will be messaged privately via PM. You MUST be willing to share your address so we can send your prize to you!
Donors also can send a short message for Boyfriend (will be translated to Korean).

BOYFRIEND Go Around The World TRAVEL BOOK
International Bestfriends Project
Concept:
A traveling guide book
Represent your city/country and be a travel guide for Boyfriend!
Purpose:
To let Boyfriend know more about your city/country
Who knows when they visit your country, they want you to be their travel guide!
Contents:
Suggestion/recommendation from Bestfriends about:
- Places of interest
- Food & eating place
- Famous landmark
- Romantic spot/date plan
- Things to do
- Shopping guide
- Culture/History/Art/Language snippet
- Traveling tips
- Others if you have different idea
What to do:
- Write a short suggestion about the any topic above (in English/Korean only!)
- Attach a photo or picture related to your suggestion or send us the link
- Please also write your name/nickname, city & country
- Please participate on our polling too (description below)
- You can add your selca if you want
- Send your entry to info@imyourbestfriend.com, don't forget to attach the picture or the link of the picture. Sorry, we don't accept entry via forum or twitter.
Note:
- There is NO LIMIT on how many entry you can send. One person can submit entry for each topic, or more than 1 entry for 1 topic.
- Attach/link only 1 picture for each entry. You can use your own photo or search from the internet, credit the source if possible please. So if you send 5 entries, you should also send 5 photos.
- If you have trouble writing your entry in English, you can ask someone (maybe our forum member) to help you translate your entry from your native language into English.
- Only interesting entries will be chosen to be in the book
- IYB Forum has the final decision on which entry are the best to be put on the book, so make it as interesting as you can!
- IYB Forum has the right to edit/make correction of the suggestion you write
- DEADLINE FOR ENTRY IS APRIL 30, 2014
- We are open for suggestion/question via forum, email info@imyourbestfriend.com or twitter @BOYFRIENDIntl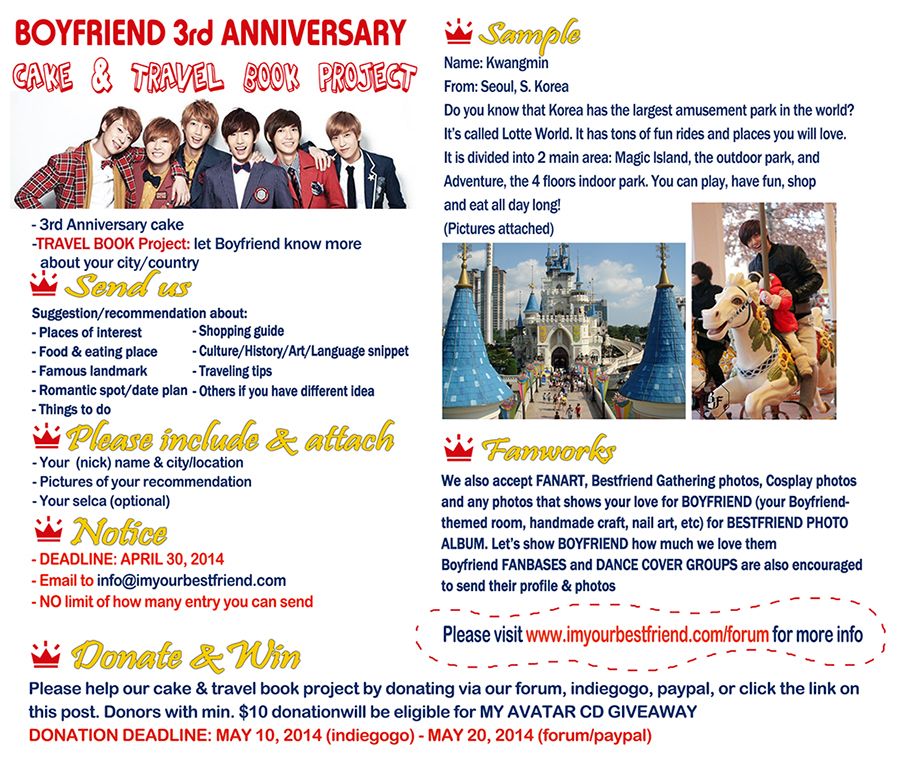 UPDATE THIS PART!!!
FANART
We are accepting fanart of Boyfriend. Real or digital, but the real art MUST BE SCANNED (not photographed, so I can print it) and send it to our email.
OTHER FANWORKS
We also accept cosplay photos, fanworks such as handmade craft, nail art, etc. As long as it is Boyfriend related.
You can also send the photo of your room if you have many Boyfriend merchandise.
Please show Boyfriend how much you love them

BESTFRIEND GATHERING & FANBASE PICTURES
We are accepting photos from your fanbase gathering/meet-up. We will make a photo gallery to display Bestfriends activities from all over the world. Please include short explanation about your fanbase and the gathering details. Let Boyfriend know about your fanbase existence!
Boyfriend fanbases and Boyfriend Dance Cover Group are welcome to send in your photos & profile.
Boyfriend will be happy to know there are many fanbases and dance cover group for them.
BOYFRIEND POLLING 2014
Please participate in our polling. You can send your answer along with your Travel Book entry to our email, or post your answer in this topic BOYFRIEND POLLING 2014
ONLY ONE ANSWER IS VALID. More than one answers, we will only use your first answer (I know it's HARD hehe)
You don't have to answer all if you don't want to.
Fave BF member:
Fave BF Korean song:
Fave BF Japanese song:
Fave BF song lyric (Kor/Jpn):
Fave BF Korean MV:
Fave BF Japanese MV:
Fave BF selca: (on their official fancafe, twitter Kor-Jpn, facebook, weibo, etc only. You can give link or attach which one is your fave picture)
Fave BF show: (choose from Mnet M!Pick, W Academy, Wonder Boy, Hello Baby, BF Mission)
Fave BF moment: (any BF moment you can think of, including from fancam, live performance, in tv shows, interviews, etc. You can provide link if possible)